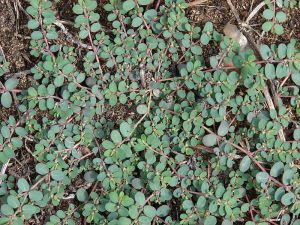 Sounds like a scary movie, doesn't it?
An invasion of creeping spurge might actually happen to your lawn! But don't fear, we have some expert advice to help you combat the spurge.
Here's how the story goes…
[JULY 2014]
PAUL [Concerned Organic Lawn Owner]:
I am writing to get your advice on how we should deal with an invasion of creeping spurge in our lawn. As you may recall, our lawn has a number of bare spots that did not fill in during the spring seeding. The spurge has invaded almost every open bare spot in the lawn. My wife, son and I spent several hours pulling the weed out of the lawn today. Do you have any suggestions for how we can reduce or eliminate this weed from our lawn? In previous years when I applied fertilizer with weed control, I never had this problem. This year, I am trying to go organic and not apply any weed control products. However, this invasion of weeds is disconcerting.
MIKE [Organic Soil Solutions Founder]:
Hi Paul, I'm sorry to hear about the spurge. It is hard to out-compete weeds with spring seeding. The time to seed is in the fall and we will start that process ion August 15. We can add some compost and do yours early if you would like. That way we can touch it up in late September if need be. Also, the pH of the soil is very low, one of the lowest of the 400 soil tests we just did. We applied 90 pounds of limestone recently and will apply another 90 pounds in October. The idea is to have a relatively healthy lawn in the fall and not so many bare spots in the spring. Did you have grubs last year?
PAUL:
Thanks for the quick reply and for the information on the condition of our lawn. I am glad to hear that the Fall seeding should help to fill in the bare patches. I would like to start the seeding at the earliest point where it makes sense. Is 15 August too early? Is it still too hot then? How do you prep the lawn before depositing the seed? Do you do anything to loosen the top soil (e.g., raking or aerating)? I believe that we did have grubs last year. We also had some other problem that took out large sections of the lawn.
MIKE:
We'll apply nematodes for grub control on a rainy day in early August. August 15 can be early. Around Labor Day is usually prime, but you can never tell. We can core aerate first. I think the compost will help, and we may do that soon.
[THREE MONTHS LATER….]
PAUL:
I just wanted to let you know that we were very happy with how our lawn turned out this year. It looks 100% better than it did a year ago. We do have a few weeds, but I am getting used to them and do not think that the lawn needs to be completely weed-free to look great. The second over-seeding and regular watering filled in the open spots in the lawn and appears to have beat back the big spurge problem that we had back in July. I hope that the improved lawn will mitigate the reappearance of the spurge next summer. We have had several neighbors comment on how great the lawn looks and have asked us who provides our lawn care. We have provided them with your contact information.
MIKE:
Glad to hear it! We look forward to continuing to work with you and your family in 2015. Thank you for your business and for spreading the word about Organic Soil Solutions!
Do you have a creeping spurge problem? Are you interested in organic lawn care for your home? Contact us today for a free assessment.
Photo courtesy of Forest & Kim Starr