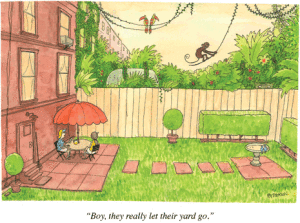 Every once in a while, we like to toot our own horn and share the love for Organic Soil Solutions with all of our customers, friends, family and fans.
Check out this latest compliment from one of our Melrose lawn care customers…
…Thank you for the great work you've done on our yard so far. Since you've been working on our yard, we actually have healthy looking grass instead of moss and sandy dirt. It's one of the few lawns in the neighborhood that birds and other wildlife seems to populate. All that natural goodness must lure them in.
Michael P. – Melrose, MA
Click here to read more customer testimonials and learn what makes Organic Soil Solutions stand far above the competitors.